Discover more from Sean's Resist Tyranny Newsletter
Geo-Politics and News worth mentioning
Microsoft's Edge Browser Censors Vaccine Research by pecc-il.org (OR Not?)
 There are many other sites coming up with the same problem, its not just about vaccine issues.
 My website shows "This site has been reported as unsafe" page. - Microsoft Q&A
 windows-10-security - Microsoft Q&A
BUT…This is not the issue with this particular part of the site. It's the PDF inline viewer which is causing the phishing alert, not the content. Just click on the "Unsafe Content" button and it gives you the details. Not all parts of the site give this error, just the PDF inline viewer by PDFjs.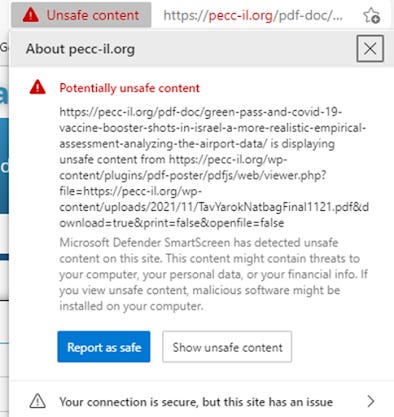 The developer of the plugin mentions this on his Wordpress site:
PDF.js makes my site supicious on Edge | WordPress.org
and Wordpress addresses this here:
Got a security defender warning on the PDF screen | WordPress.org
The developer of the plugin released a new version to make the URL's relative to the site, and remove the double-URL problem within the inline wordpress plugin embedded code.
I will let the pecc-il.org people know about this, and they can update their Wordpress site and fix the issue themselves.
Ultimately this has nothing to do with Bill Gates, Microsoft or even a global blacklist, it's a built-in function of the Smartscreen doing its job and blocking an improperly made Wordpress plugin.
And…Microsoft Edge is using a Chromium engine, the same as Chrome does.
--
Also, this is a brand new domain, not been around long. Brand new domains are usually flagged by aggressive security controls between 1-3 months to prevent phishing operations and temporary collection sites used for nefarious reasons. Simply blocking newer domains just for that reason seems a little stiff, but it does cut down on the amount of security issues you will encounter.
Domain Name: PECC-IL.ORG
Registry Domain ID: D402200000017426943-LROR
Registrar WHOIS Server: whois.namecheap.com
Registrar URL: http://www.namecheap.com
Updated Date: 2021-09-27T03:47:51Z
Creation Date: 2021-07-28T09:32:46Z
To "start" a new website and use a totally brand new, never been registered domain, you need to ramp-up the usage slowly what is called "warming up a domain" to both e-mail and web hits. Namecheap is also not the worlds most reliable domain provider.
Microsoft and other security engines will also have a feedback mechnism to register completely legit sites. Its also possible to piggy back off existing sites to get back-links and traffic flow.
Microsofts instructions/docs on Smartscreen reporting:
Microsoft Defender SmartScreen overview (Windows) - Windows security | Microsoft Docs
The SSL certificate checks out and is using Lets Encrypt, which lots of websites do.
* Server certificate:
*  subject: CN=pecc-il.org
*  start date: Sep 26 20:40:08 2021 GMT
*  expire date: Dec 25 20:40:07 2021 GMT
*  subjectAltName: host "pecc-il.org" matched cert's "pecc-il.org"
*  issuer: C=US; O=Let's Encrypt; CN=R3
*  SSL certificate verify ok.
From: Mathew Crawford from Rounding the Earth Newsletter <roundingtheearth@substack.com>
Sent: Saturday, November 20, 2021 11:10 PM
Subject: Microsoft's Edge Browser Censors Vaccine Research

The Information Wars Part VI ‌ ‌ ‌ ‌ ‌ ‌ ‌ ‌ ‌ ‌ ‌ ‌ ‌ ‌ ‌ ‌ ‌ ‌ ‌ ‌ ‌ ‌ ‌ ‌ ‌ ‌ ‌ ‌ ‌ ‌ ‌ ‌ ‌ ‌ ‌ ‌ ‌ ‌ ‌ ‌ ‌ ‌ ‌ ‌ ‌ ‌ ‌ ‌ ‌ ‌ ‌ ‌ ‌ ‌ ‌ ‌ ‌ ‌ ‌ ‌ ‌ ‌ ‌ ‌ ‌ ‌ ‌ ‌ ‌ ‌ ‌ ‌ ‌ ‌ ‌ ‌ ‌ ‌ ‌ ‌ ‌ ‌ ‌ ‌ ‌ ‌ ‌ ‌ ‌ ‌ ‌ ‌ ‌ ‌ ‌ ‌ ‌ ‌ ‌ ‌
The Information Wars Part VI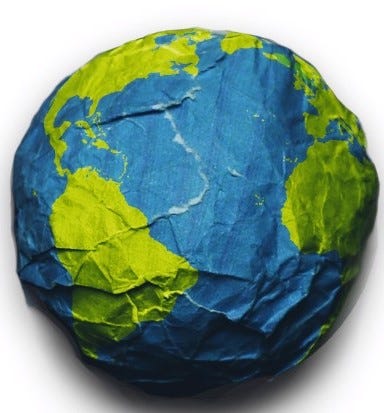 Nov 21
I use multiple browsers. I have mostly migrated to using the Brave browser from Chrome, which I now use sparingly. But I keep several browsers open as a way to meaningfully segregate the 200+ tabs I tend to have open at any one time.
Tonight I was just working on an article and sorting research when I noticed something strange in my Edge browser. I had a page open on the Israeli Public Emergency Council for the COVID-19 Crisis website. But the page was mostly blank.
Understand two things:
1.  I constantly check tabs of "uncertain content" to close some down. Since I open dozens of new articles and research papers every day, this is strictly necessary to remain organized.
2.  I am dyslexic. Without going into details, the more tired I am or the more distractions I have to process, the narrower the focus of my vision where I can read. I often learn to use new apps and systems slowly, and in a different way than other people do, but learn to navigate in my own way relatively quickly thereafter. 
There are times when it's easier for me to close down a tab like this without even noticing what it was. And I nearly did. I wasn't even aware of what website I was on, or the topic---just that there was no content. Thankfully, I hesitated and slowly read the horrible white text (which took a few seconds) and deliberately focused on what I was experiencing. That's when I realized that the browser was blocking the content!
Once I realized that, I became curious as to what content was being blocked. Very often I open links from articles and emails and leave them open for when I have time to catch up on the reading. I hadn't yet read this one, but I understand now why Microsoft didn't want me to! Here is the content of that page:
This is an empirical analysis of Israeli airport data published last week, comparing SARS-CoV-2 positivity rates between the vaccinated and unvaccinated groups of travelers. Here are the first few sentences from the study abstract:
The paper describes an analysis based on data published on November 1, 2021, by the Israeli Ministry of Health (MOH) on its control dashboard about returning Israelis through the national airport. The data include the respective numbers of Vaccinated and Unvaccinated individuals and the number of positive COVID-19 cases identified in each group. These reflect the modified definitions of Vaccinated and Unvaccinated status after the Pfizer booster vaccination campaign in Israel (August-October). In particular, to maintain a Vaccinated status and specifically the "Green Pass", individuals who received the initial 2 doses more than 6 months ago were required to receive the booster vaccine.
Israel national airport is a unique setting, where the Vaccinated and Unvaccinated individuals all have to test, which allows a more objective assessment of both the booster and Green Pass efficacy in preventing infections. The analysis suggests that the positivity rate (number of cases divided by number of tests) among the Vaccinated cohort throughout August-October is only 1.54-fold smaller than the one among the Unvaccinated cohort (about 35% relative protection).
Understand that 90% efficacy implies a 10-fold smaller viral positivity rate among the Vaccinated than the Unvaccinated, and 95% efficacy implies a 20-fold smaller viral positivity rate. A mere 1.54-fold cohort-to-cohort rate comparison. This kind of factor could represent any number of biases and is far closer to the conclusions of my modeling that there is essentially no vaccine efficacy than the claim from trials and dubiously designed retrospective studies claiming 20-fold (and sometimes greater) relative infection rates.
If "The Science" is so clear, and on the side of the vaccine partisans, why does the world's wealthiest vaccine partisan feel the need to auto-censor research instead of examining its merits within the context of the debate? Isn't science about examining the relationships between all the data and the competing hypotheses?